2019 Activities and Events
Scroll down for the latest in activities… Eventbrite links (if required to purchase tickets) are included in event descriptions. 
Public Safety Night-Featuring Bill Starrs RIBS! Thursday, February 21st, 2019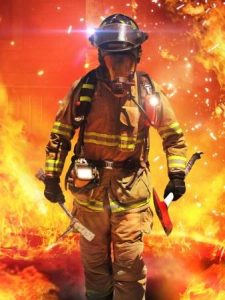 Please join us on Thursday, February 21st to thank and celebrate our local heroes in law enforcement and public safety as they join us for a special thank you dinner! Bill Starrs and the "crew" will be preparing their famous RIBS and all the fixings. All Elks and their guests are welcome (please call the Lodge by Monday, February 18th to make reservations).   Adults: $15, Children $7
Washington's Birthday Celebration-Friday, February 22nd 2019
     On Friday, February 22nd we will be celebrating the birthday of our first President with cherry pie and trivia! Come join us with your families and friends. Fun prizes and the chance to prove that you really WEREN'T sleeping in US History class! 
Veterans Hospital Visit
On Saturday February 23rd, the Santa Cruz Lodge will be visiting the Palo Alto Veterans Hospital to serve lunch to the patients. All interest Elks and their families and friends are welcome to help (minimum age requirement to join the group at the hospital is 12 years old). Please contact the Lodge office or our ER if you would like to join us! 
2nd Annual Casino Night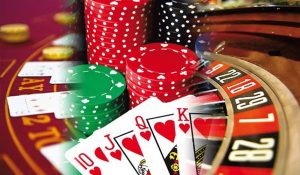 Saturday, March 9th, Join us as we turn the Lodge into a Mardi Gras themed casino with delicious food, a silent auction and raffle prizes! Doors and bar open at 6pm, Casino hours from 7-10pm and silent auction closes at 8pm. $30 per person. All Elks and their guests are welcome! Tickets now available on Eventbrite!
STAR WARS DAY CELEBRATION!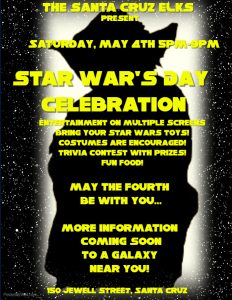 Join us with your friends and family on May 4th from 5-9pm for Star Wars Day fun! We'll be playing movies on multiple screens (Star Wars on the Main Screen) and having fun food, trivia and a generally intergalactic-fantastic time! Bring pillow, lounge chairs and other items and get comfy at the Lodge. The bar will be open as well.
Summer Events
Memorial Day BBQ, Poolside dinners on Fridays, Fourth of July BBQ, Labor Day BBQ and more to come!