Upcoming 2020 Activities
Scroll down for the latest in activities… Eventbrite links (if required to purchase tickets) are included in event descriptions.

PUBLIC SAFETY NIGHT-FEB 20th, 2020
Come honor our local law enforcement, firefighters and first responders-all Elks and their guests and families are welcome!
MONTHLY POKER TOURNAMENTS AT THE LODGE-FEB 21st, 2020
EVERY third Friday at the Lodge-call for details and to reserve a spot (currently able to seat 16)- $20 buy in, play starts around 6pm, registration a bit before that-fun prizes. Open to Elks and their guests. The bar is open if you want to come and observe before joining a future game or just hang out with the players and our great bartenders.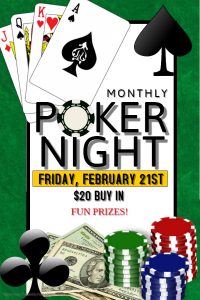 THIRD ANNUAL CASINO NIGHT! FEB 29TH
Celebrate leap day with us at the Lodge-Casino games with great prizes, food and fun! Tickets available at the Lodge or on Eventbrite starting January 15th-table sponsorships packages available-open to all Elks and their guests.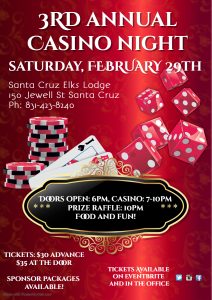 Awards Night
March 5th Marks Awards Night-Elk of the Year- Officer of the Year-Citizen of the Year and More!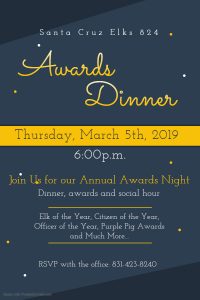 Old Timers Night
All 50+ year memberships are invited to dinner at the Lodge on March 19th! Come see old friends and reminisce.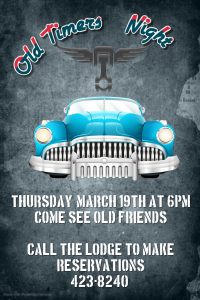 NEW OFFICER INSTALLATION DINNER
Meet the new 2020-2021 officers and hear about upcoming activities and plans for the Lodge-join us in celebrating the bright future of the 824!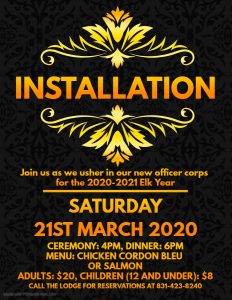 MONDAY NIGHT DINNERS AT THE LODGE
Elks and their guests are welcome to Monday Night Dinners at 6pm every week (with a few holiday exceptions). $15 per person. Call the Lodge office (831-423-8240) for reservations or just drop by if your not in the mood to cook! Check the event calendar for menu selections.
FRIDAY NIGHTS AT THE LODGE
Join us with your family and friends every Friday at the Lodge. The bar is open with big screens playing sports on request.  It's the perfect Friday night wind-down for ALL-whether you've been a member for 25 year or 25 months! Sit inside and play cards with friends, watch tv and wind down or bask in the glory that is the Elks Lodge