Past 2019 Events
OKTOBERFEST 2019!

Grab your lederhosen and join us on OCTOBER 12th for an evening of music, dancing and celebrating new beer! We'll have sausages, soft pretzels and craft beer on tap! This event is a fundraiser for CHEMPI (California-Hawaii Elks Major Project Inc) to raise funds that pay for therapy for children with disabilities. Tickets available on EVENTBRITE or by calling the Lodge at 831-423-8240
Labor Day BBQ
Veterans Day Avenue of 
Flags! 
More to come!
Fall Events
Veterans Hospital Visit
Join us on Saturday July 20th as we serve lunch to 170 veterans and staff at the Palo Alto Veterans Hospital! Call the Lodge at 423-8240 for more information!
Fourth Of July BBQ and Flag Raising
STAR WARS DAY CELEBRATION!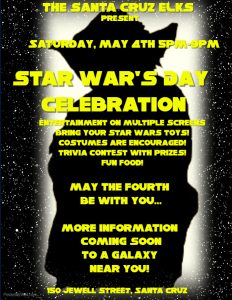 Join us with your friends and family on May 4th from 5-9pm for Star Wars Day fun! We'll be playing movies on multiple screens (Star Wars on the Main Screen) and having fun food, trivia and a generally intergalactic-fantastic time! Bring pillow, lounge chairs and other items and get comfy at the Lodge. The bar will be open as well. Prizes for trivia winners. I-Spy style children's games for prizes.
2nd Annual Casino Night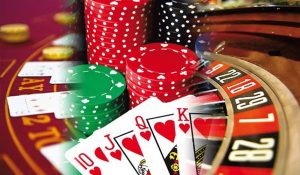 Saturday, March 9th, Join us as we turn the Lodge into a Mardi Gras themed casino with delicious food, a silent auction and raffle prizes! Doors and bar open at 6pm, Casino hours from 7-10pm and silent auction closes at 8pm. $30 per person. All Elks and their guests are welcome! Tickets now available on Eventbrite!
Veterans Hospital Visit
On Saturday February 23rd, the Santa Cruz Lodge will be visiting the Palo Alto Veterans Hospital to serve lunch to the patients. All interest Elks and their families and friends are welcome to help (minimum age requirement to join the group at the hospital is 12 years old). Please contact the Lodge office or our ER if you would like to join us!
Washington's Birthday Celebration-Friday, February 22nd 2019
     On Friday, February 22nd we will be celebrating the birthday of our first President with cherry pie and trivia! Come join us with your families and friends. Fun prizes and the chance to prove that you really WEREN'T sleeping in US History class!
Public Safety Night-Featuring Bill Starrs RIBS! Thursday, February 21st, 2019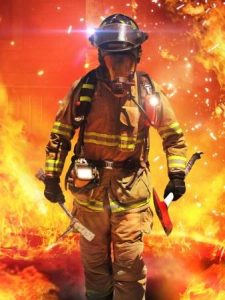 Please join us on Thursday, February 21st to thank and celebrate our local heroes in law enforcement and public safety as they join us for a special thank you dinner! Bill Starrs and the "crew" will be preparing their famous RIBS and all the fixings. All Elks and their guests are welcome (please call the Lodge by Monday, February 18th to make reservations).   Adults: $15, Children $7
Italian Night at the Lodge- Monday, February 4th, 2019
February 4th, 2019 (Monday). Mike Venezio, Mark Violante, Bill Starrs and their team will be on hand to serve meals in support of Elks Charities for disabled children in California and Hawaii (the "Purple Pig"). Please join us for this special event! Adults: $15, Children: $7. Prices include chicken parmesan, pasta with marinara sauce, salad, bread and dessert! Call the Lodge to make reservations by Friday, February 1st.  
Paint Night at the Lodge: Paint Your Pet-Friday, February 1st, 2019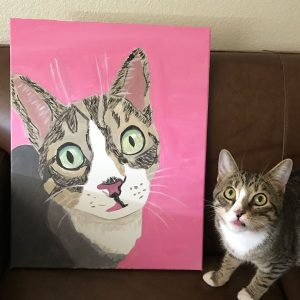 Join us with friends on Friday, February 1st from 6pm-9pm for a very special FIRST FRIDAY art activity and capture your pet's personality on canvas! Information and tickets for this very unique and fun activity are available. Ticket cost: $55 per person and includes all supplies necessary to capture the essence of your furry family member! Elks and their Guests are welcome.
2018 Events
Join us for our Annual Hoop Shoot on Saturday, December 29th from 10am-1pm at the Boys and Girls Club in Downtown Santa Cruz. Competition open to all children, ages 8-13. Prizes awarded for winners in each division For more information CLICK HERE.
 Casino Night at the Santa Cruz Lodge!
Please Join Us As We Celebrate
The 150th Anniversary of The Benevolent and Protective Order of Elks
 Saturday, February 17th, 2018
 6.30-7pm: Presentations and Remarks
7 pm: Happy Hour with Appetizers
8pm-11pm: Casino Games, Music & Photos
11pm: Raffle (Chips redeemed for raffle tickets, need not be present to win)
$25 Pre-paid through Lodge office (831-423-8240), $35 at door

EVENTBRITE
https://www.eventbrite.com/e/santa-cruz-elks-150th-anniversary-casino-night-tickets-42022114275
Come dressed to kill
Fall Activities!
Soccer Shoot 2017
The Lodge sponsored The Soccer Shoot on Saturday, September 23rd to coincide with team photo day. Dozens of teams were on-site to compete for the highest number of goals per entry.  Thanks so much to the dedicated members and soccer clubs that came for support the event!
4-H Gratitude Grant in Action!
The Quail Creek 4-H (recipients of our 2016-2017 Gratitude Grant) won BIG at the Santa Cruz County Fair Livestock Competitions (September 13th-17th, 2017). Steven K. clearly showed star qualities as he swept the awards (Supreme Champion, Champion and Reserve) in FIVE categories and was awarded champion ribbons in an additional three competitions. Steven is pictured above with his ribbons from the competition and his award winning lamb, Zelda. 
FALL CARNIVAL WITH QUAIL CREEK 4-H
We are looking forward to seeing the Quail Creek 4-H at the Lodge from 12-4 on Sunday, October 29th for Fall Carnival. There will be 4-H petting zoos, food for sale, carnival games and information about the Elks and 4-H. Bring your families and come visit for the afternoon!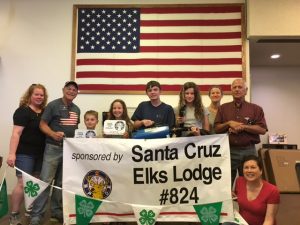 Get Your Irish On!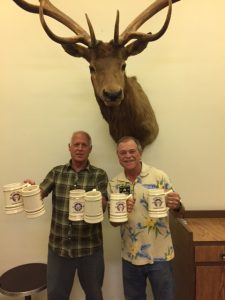 Our Collectable Steins Are Looking for Sponsors in Honor of "Irish" Ferrigan, a GREAT Elk and PER.
Annual Sponsorship Costs: Pro-rated 2017-2018 (until March 31st): $15
Full Year Sponsorships 2018-2019 (April 1st-March 31st): $30
 Benefits of Sponsorship: Your very own stein on loan, lovingly protected by our fearless bartenders when you are away from the Lodge!
Discounts to fill the stein (32oz) : $5 Budweiser, $6 Draft Beers, $1 soda
NOTE: Sponsored Mugs are the property of the Lodge and must be returned to the bar at the end of the evening. Sponsorships will be renewed annually in March or based on availability.